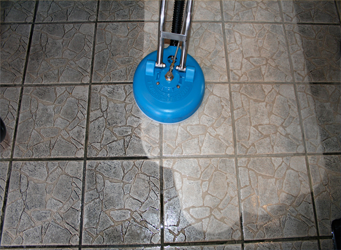 VCT stands for vinyl composite tile. It is a flooring type that can be mostly found in hospital hallways and various other commercial buildings. You might also know it under 'tile flooring', however don't confuse it with ceramic tile flooring, which is a different matter altogether.
There are a few things you need to do when maintaining your VCT flooring, and the main steps for these are stripping and waxing, buffing, polishing and finally scrubbing.
When you strip and wax the floor you basically remove the existing layer of finish and add to it a new, fresh layer. The actual stripping process is quite challenging and labor intensive. First you use a mop to apply stripper that should sit for a couple of minutes in place. You then use a low speed buffer with an abrasive pad to remove the wax. The resulting dirt should be vacuumed so the surface is clean again. Then you do the process a few more times until all the finish is removed.
The next step is leaving it to dry properly. Once it is dry, you start applying the new layer of finish or wax. You apply it in coats with leaving to dry in between layers. You might need to apply more layers depending on the level of finish you want to give to the surface. A strong shine needs at least 6 coatings or more.
Once the entire process is finished you should leave the floor to properly dry for a couple of days before you start the buffing. When you buff the floor you basically use a high speed buffer to reinstate the shine of the VCT flooring.
When the floor is properly waxes and buffed, all it needs is a good polish and a final scrubbing and you're done. You should generally strip the floor and wax is about once a year, however as every floor is different from each other, some might need maintaining to be done more often.
. If your VCT floor is in need of professional care, call MS Enterprises LLC today at (856) 784-1101 and visit us online at http://www.msenterprisesllc.com.

Special Coupon Savings