Floor Stripping and waxing along with a proper buffing program schedule is an important part of controlling facility costs. Flooring that is not properly sealed and protected with multiple coast of floor finish will result in unrepairable floor damage. A proper maintenance plan will protect the tile and extend the life of your floors which will save money in the long run.
MS Enterprises LLC specializes in Floor Stripping & Waxing, Re-Finishing and Buffing services for Vinyl Ceramic Tile (VCT), Laminate, Luxury and Solid Vinyl Tile products like Amtico, Spacia and other PVC constructed flooring. We also work with flooring installers and General contractors in providing the final step of sealing and finishing a new floor installation.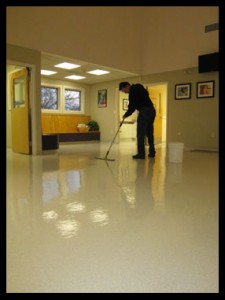 3 STEPS OF A PROPER FLOOR MAINTENANCE PROGRAM:
1. Proper Sealing & Finishing Immediately After Installation
2. Nightly, Weekly or Monthly Buffing Program
3. Semi-Annual Stripping and Re-Finishing
For your professional floor stripping and waxing, call MS Enterprises LLC at (856) 784-1101 and visit us online at http://www.msenterprisesllc.com.

Special Coupon Savings