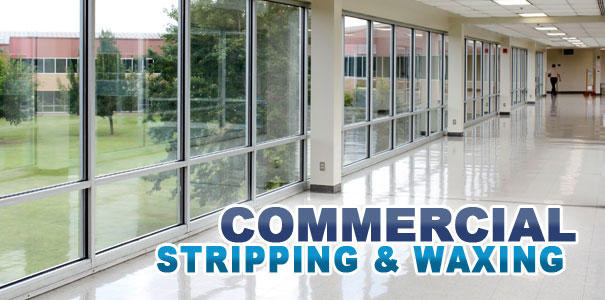 When you deal with commercial grade flooring, you have something completely different on your hands than residential grade flooring. If you have noticed, carpets in commercial areas always have a low pile and are not particularly soft. This is so the carpet can withstand near constant flow of traffic throughout the day. Still, a carpet cleaner is needed for commercial grade carpets to remove all the dirt and buildup. The most commonly used method of carpet cleaning is steam carpet cleaning. For VCT floor care, one specific cleaning method is utilized, known as strip and wax. Both forms of commercial flooring and how to clean them will be explored here.
Steam carpet cleaning is also known as the hot water extraction method. It is the best carpet cleaning method available today and recommended by all carpet manufacturers. The multi-step process begins with vacuuming. This is important because 80% of soil in carpet is dry particle matter that can be sucked up. After spot treatment and preconditioning of the carpeted area, the carpet cleaner agitates and extracts the soil from the carpet. A speed-dry process moves air through freshly-cleaned carpets and increases the speed of drying. Grooming is performed with a tool that resembles a rake to raise the carpet fibers and improve their appearance after drying.
When you strip and wax VCT floor tiles, what you are basically doing is removing the existing layer of finish and adding a new one. This is important to VCT floor care because the appearance of the tiles in your building will be noticeably cleaner and brighter in color. This labor-intensive process begins with the application of stripper with a mop. A buffer removes the wax and a vacuum will clean the resulting dirt off the tiles. Repeat this process a few times. Then let the tiles dry completely, meaning a couple of days. Then you start the buffing process to reinstate the shine of the VCT flooring. A good polish and a final scrubbing and the process is complete.
While it may seem to be of lesser importance, VCT floor care and carpet cleaning is imperative for keeping your business looking and feeling clean. The strip and wax method on VCT tiles along with steam carpet cleaning in carpeted areas will make a difference to your customers as they enter your business. The right carpet cleaner business should also do VCT floor care, for your consideration.
VCT floor care is important, and is easily maintained with the help of a professional. Call MS Enterprises LLC today at (856) 784-1101 for your VCT floor stripping and waxing needs! Visit us online at http://www.msenterprisesllc.com.

Special Coupon Savings