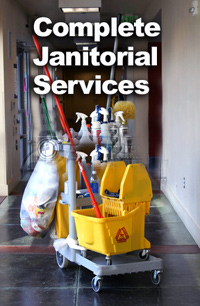 Customers have come to expect, knowledgeable, qualified, passionate employees, no matter the business. With all of this attention that must be paid to the day to day operations of the business, one must ask: do I really have time to worry about the cleanliness and appearance of the office.
Obviously, how the office space looks is crucial to creating a warm, inviting atmosphere for customers. But do your employees really have the time to deal with the time consuming process of keeping an office or industrial space clean? In order to give your employees more time to work with customers, perhaps you should consider using a professional janitorial service to clean and maintain your office space.
Trained janitorial service companies have a number of benefits. First and foremost, the time that they spend cleaning your office is time saved for your employees to focus on their work. While janitorial services are an additional expense, the amount of employee time saved can more than make up for the additional cost.
Secondly, janitorial experts may be able to deal with cleaning matters specific to your type of business. For instance, medical practices may have biological or chemical waste and spills that an accountant's office may not. Experienced cleaning services may be able to deal with your businesses specific needs, following all state and federal guidelines for disposing of waste safely and legally.
Furthermore, janitorial services offer many types of cleaning that your employees may not be able or willing to perform. Using complex industrial solvents and equipments, these trained professionals can offer a comprehensive, deep cleaning of your office space.
While your employees may be able to recognize the bigger messes, they might be unable to spot the deep down stains and messes. These hidden messes can create foul odors and potential even environmental hazards such as molds and fungi.
Today, many janitorial services use what are commonly referred to as 'green' chemicals and technologies. Using chemicals and equipment that offer a comprehensive clean while doing no harm to the surrounding environment may be an attractive selling point for your business.
Hiring a janitorial service means giving your employees more time to work with customers, and taking the stress of cleaning your office or building off of your shoulders and onto ours. Call MS Enterprises LLC today at (856) 784-1101 and visit us online at http://www.msenterprisesllc.com.


Special Coupon Savings